The withdrawal of troops from Afghanistan is Britain's biggest foreign policy disaster since the Suez crisis of 1956, the chairman of the Foreign Affairs Committee has said.
Tory MP Tom Tugendhat said the UK had "abandoned the Afghan people".
The Taliban have reached the outskirts of the capital Kabul after taking almost every other major city.
Prime Minister Boris Johnson called a meeting of the emergency Cobra committee on Sunday afternoon.
Parliament will be recalled on Wednesday for one day to discuss the situation in Afghanistan.
Foreign Secretary Dominic Raab said he had shared his "deep concerns about the future for Afghanistan" with Pakistan's foreign minister Shah Mahmood Qureshi.
He said they agreed "it is critical that the international community is united in telling the Taliban that the violence must end and human rights must be protected".
Asked to confirm if Mr Raab had been on holiday, the Foreign, Commonwealth and Development Office said he was "returning to the UK today, given the situation". They said he was "personally overseeing the FCDO response and engaging with international partners".
Labour leader Sir Keir Starmer said: "The government has been silent as Afghanistan collapses, which will have ramifications in the UK."
He said it was a "very sad day" and "our thoughts are with the Afghan people". The government's priority "must be to evacuate British personnel and support staff", he added.
The British ambassador remains in Kabul, the FCDO said, but the UK has reduced its diplomatic presence.
"UK government staff continue to work to provide assistance to British nationals and to our Afghan staff," said a spokesperson.
"We are doing all we can to enable remaining British nationals, who want to leave Afghanistan, to do so."
Malala Yousafzai, the Nobel Peace Prize winner who found refuge in the UK after being shot in the head by Taliban militants in 2012, said global and regional powers must call for an immediate ceasefire, provide humanitarian aid and protect refugees.
"We watch in complete shock as Taliban takes control of Afghanistan. I am deeply worried about women, minorities and human rights advocates," she said.
Mr Tugendhat compared the Afghanistan withdrawal to the UK's failed invasion of Egypt in 1956, intended to regain control of the Suez canal, which is seen by many historians as marking the end of Britain's role as a major world power.
Speaking ahead of Mr Raab's comments on Sunday, he also said: "We haven't heard from the foreign secretary in about a week, despite this being the biggest single foreign policy disaster since Suez, so I don't know what the Foreign Office is thinking."
He said the pull-out in Afghanistan showed a lack of "strategic patience", stripped the Afghan army of their logistics and air support and "convinced them there was no tomorrow".
That emboldened Taliban militants, allowing them to sweep through many major cities, he suggested.
The Foreign Office has advised more than 4,000 British citizens thought to be in Afghanistan to leave and on Thursday said it would send 600 troops to help with the departure of Britons, Afghan staff and interpreters.
Why is there a war in Afghanistan?
After 20 years of war, foreign forces are pulling out of Afghanistan following a deal between the US and the Taliban militants they removed from power back in 2001.
The conflict has killed tens of thousands of people and displaced millions.
The Taliban has pledged not to allow Afghanistan to become a base for terrorists who could threaten the West.
But the country's hardline former rulers have quickly gained territory in recent weeks from Afghan army soldiers, who are now being left to protect a fragile government.
The Taliban also made a pledge for national peace talks, but many fear a worsening civil war remains a far more likely outcome.
Read more about the origins of the conflict

Mr Tugendhat, who served in Afghanistan before becoming an MP, said it was "shameful" of Nato not to evacuate all the Afghan people who served alongside British forces.
Interpreters and guards, Afghans trained as special forces, people who set up schools for girls and helped NGOs are "all at risk now", he said.
He said: "The danger is that we're going to see every female MP murdered, we're going to see ministers strung up on streetlamps and this is the decision I'm afraid that has been taken."
But Taliban spokesman Suhail Shaheen told the BBC "there will be no revenge on anyone".
He said militants had been ordered to wait on the outskirts of Kabul for a peaceful transfer of power.
Scotland's First Minister Nicola Sturgeon called on the UK to offer "as much refuge for vulnerable Afghans as possible". She said the Scottish government is "willing to play our full part and do all we can to help those in peril as a result of the horrifying situation currently unfolding".
Analysis
By Tony Bonsignore, BBC political correspondent
Wednesday could be a very uncomfortable day for the government, as MPs return to the Commons to debate the UK's response to the deepening crisis in Afghanistan.
The government will have to answer questions about why it so badly miscalculated the strength of the Taliban, and its decision to withdraw its forces in the face of impending disaster.
In what will be an emotive debate, many MPs – including senior Conservatives like Tom Tugendhat – will stress the sacrifices already made over the past 20 years, and the obligation they believe this country owes to the people of Afghanistan.
They are likely to push the government to do much more, in a bid to avert a humanitarian catastrophe, despite the claim by Defence Secretary Ben Wallace that it would be impossible for the UK to act alone.

The Home Office said 3,300 Afghan staff who worked for the UK had already been resettled with their families.
"Home Office officials are right now working to protect British nationals and help former UK staff and other eligible people travel to the UK," a spokesperson said.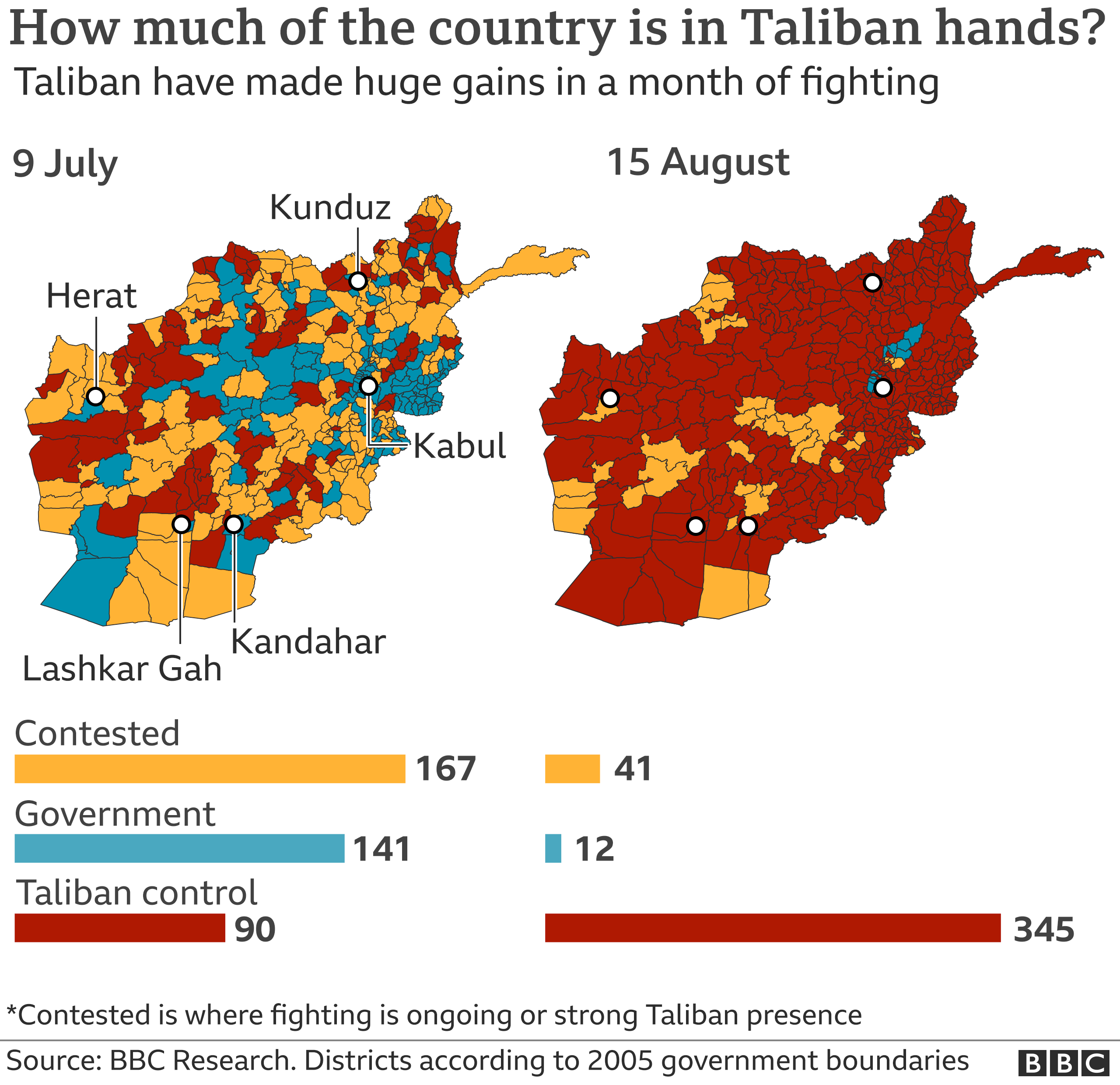 But 35 Afghans due to start scholarships at UK universities within weeks have been told their places have been suspended because their visas cannot be arranged in time.
Naimatullah Zafary, who lives in Kabul, told the BBC: "My daughter was asking me yesterday, are the Taliban coming and are they killing her? I said, no, they are not killing her. She is six-and-a-half years old, can you imagine?"
Chairman of the Commons Defence Committee, Tobias Ellwood, said the UK should have the courage to "stand up and say 'this is the wrong call' and lead a coalition, or attempt to lead a coalition" to address the crisis.
"This is a humiliating strategic defeat for the West that we will regret," he told the BBC.
"We have a very messy and unpredictable number of months and years ahead – unless we recognise what a gargantuan mistake it has been to withdraw our troops."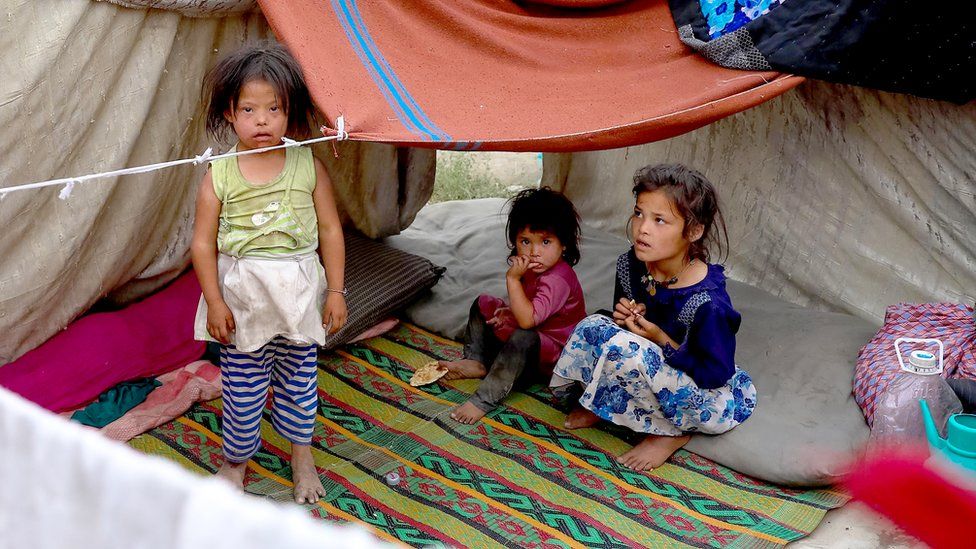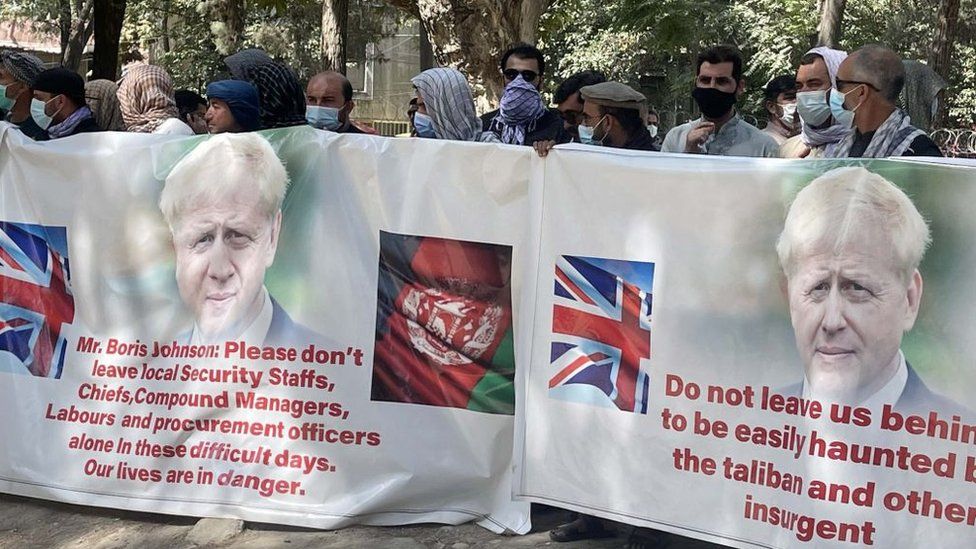 But Defence Secretary Ben Wallace wrote in the Sunday Telegraph that it was "arrogant" to think the UK could resolve the situation acting alone.
He said he had approached other allies about taking the place of US forces, but none was willing to do so.
"A unilateral force would very quickly be viewed as an occupying force and, no matter how powerful the country that sends it, history shows us what happens to them in Afghanistan," he said.